Amphibious tool carrier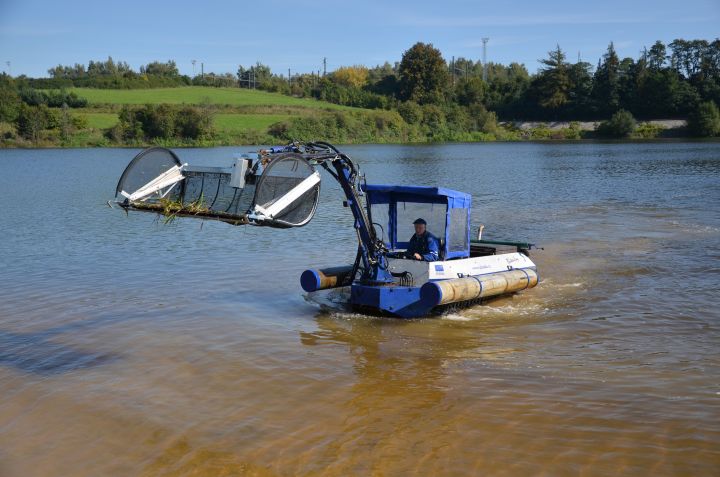 The amphibious tool carrier is designed to maintain sewers, lakes , ponds and other small inland waterways that are not accessible to conventional equipment because the water level is either too high or too low.
On land, this universal machine is powered by hydraulically driven belts. This allows the machine to be self-propelled in marsh areas and to climb slopes of up to 25 ° (short term, max. 15 ° permanently). The machine is not designed for heavy road use.
In water, the proven and durable self-cleaning propeller (optional two propellers) ensures high thrust and maneuverability, even under the most difficult conditions. The design of the system prevents the vegetation from winding around the drive shaft. The sturdy propeller can be unloaded of the water and adjusted to a height of 0.2 m.
The two-piece hydraulic arm mounted on the bow of the amphibian can be equipped with a range of tools, either for weed cutting and cleaning, or for minor drainage work. A quick coupling is available to simplify tool change.
The amphibian is equipped with an air-cooled 48 kW Hatz Silent Pack diesel engine. In the standard version, this motor is driven by a single hydraulic pump with a load sensor that supplies oil for all (hydraulic) functions. If higher hydraulic power is required, a second axial piston pump LS can be used. The engine and hydraulic pump (s) are enclosed in the engine compartment which is separate from the operator's cab.
Between the enclosed engine compartment and the front deck is a large driver's control panel with an adjustable seat, where the driver has a good view of the work being done and the whole machine. All controls are within easy reach of the driver. A sunroof or a removable open cab is available as an optional accessories to protect the driver from the sun and rain.
The machine is constructed from laser-cut and profiled steel with integrated reinforcement that transfers mechanical loads to the frame. The hull has four lifting eyes and one towing eye on the bow. The engine compartment is covered by a hood supported by a gas spring.
Additional side floats made of aluminum are attached to the machine when working on the water. The machine's balance can be maintained by lifting these floats, either manually or using the optional hydraulic system.
STANDARD DESIGN
Engine instrument panel with hour counter
Adjustable prop screw height of 0.2 m
Automatic cruise control system for propeller control
Fuel gauge on the instrument panel
4 lifting eyes and 1 towing eye at the front
Double drain plug

OPTIONAL ACCESSORIES
Double propeller drive
Double pump LS
Side floats
Boat pump, manual or electric
Toolbox on Frame (without tools)
Removable cab roof
Tachometer counter on the instrument panel
Power steering
Height and angle adjustable steering column
Multiple adjustable comfortable seat and armrests.
12 V connection on the instrument panel

TECHNICAL SPECIFICATIONS
Total length: 4.6 m
Overall width: 2,0 / 2,6 m (including / without standard side floats)
Total height: 2,0 m
Material Steel: 3 mm
Engine: Hatz 4L41C EURO 2 Silent Pack Diesel Engine, 48 kW at 2300 rpm
Cooling system: Air
Electrical systems: 12V, 102 Ah maintenance-free battery
Hydraulic system: Single or double axial piston pump (s) LS, max. 220 bar, incl. oil coolers
Water drive: (hydraulic) drive with one or two self-cleaning screws
Drive on land: Rubber belts 250 mm with hydraulic drive
Steering: Power steering
Hydraulic tank: 200 l
Fuel tank: 100 l
Weight: 2,750 - 3,500 kg, depending on version
Substrate pressure: 250 - 320 g / cm2
Height above the surface: 0.50 m at a weight of 2 750 kg
Submersion: 0.85 m at a weight of 2,750 kg
Max. speed: 10/6 km / h (land / water)
Front arm: 1.20 + 1.20 m, load capacity 200 kg at 2.50 m